6 Days 5 Night:

You will have a relaxed vacation with beautiful beach and seafood restaurants together with nice Huahin sea city.
The vehicle is comfortable. Your guide is professional promised. The restaurants have high quality tasty and copious meals. Hotels are charming and all well-equipped.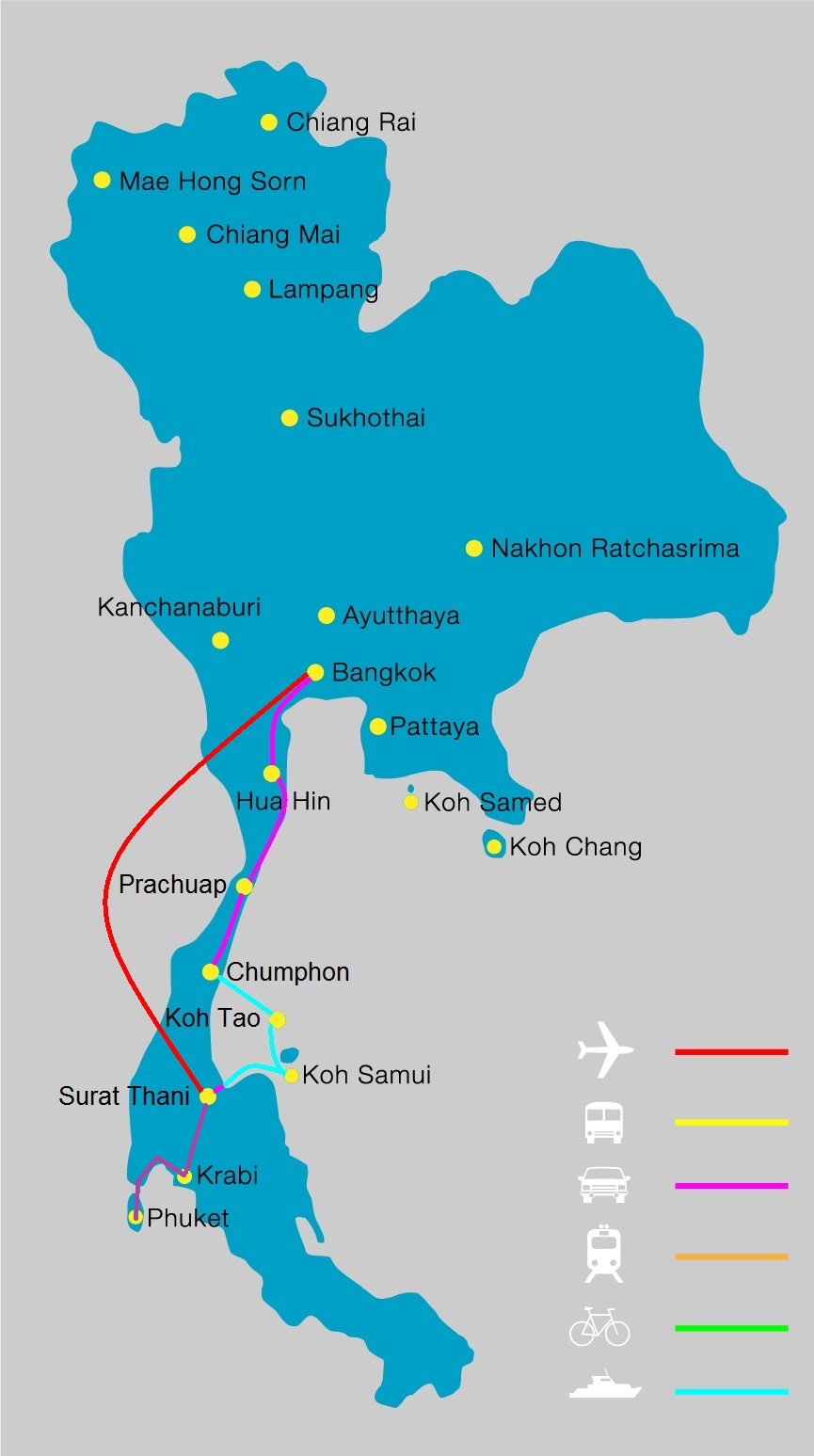 Day 1: From Bangkok to Huahin
Meal: - / - / -
Morning:
- Pickup at your hotel or airport in Bangkok. There will be an English speaking tourist guide if the group 5-9 people by a van.
- Heading from Bangok to the south. Take a short visit 15 minutes to Phra Nakhon Khiri Historical Park.
- Travel further to have Thai seafood lunch at a restaurant by your leisure.
Afternoon:
- Travel further to Mrigadayavan summer palace. This is a romantic and power of love made of old teak wood palace of the King 100 years ago, now opened for public. You will enjoy the beautiful palace and the beach. We will stay here for 2 hours.
- Take a short visit 30 minutes to Plearn Wan, the Thai traditional market. Here you will have fun with fashioned old Thai market.
- Keep heading to Huahin beach. This time, it will be around 5-6 pm before sunset. You will enjoy walking along the beach.
Night:
- Go to a hotel with beach 4 star, take shower, and have some rest.
- Go to have dinner at a restaurant by your leisure.
- Go to take a walk 2 hours at Cicada Night Market, a popular conceptual art night market.
- Go back to hotel. Take your leisure time.
Day 2: at Huahin
Meal: B / - / -
Morning:
- Breakfast served at your hotel.
- Your leisure time along Huahin beach in the morning.
- Pick up at hotel lobby at 11 am.
- Short Huahin city tour 1 hr.
- Lunch at a restaurant by your leisure.
Afternoon:
- Go to Huahin Water Market. Here, you will shop at a Thai traditional floating market.
- Go to Huahin Hills Vine yard. This place, you will taste a fresh wine together with good farm view.
- Go to the Venezia Hua Hin. This is a modern Huahin with western style art architectural market.
Night:
- Go to hotel, take shower, and have some rest.
- Go to have dinner at a restaurant by your leisure.
- Go on top of a small valley to see beautiful view of all Huahin city.
- And go to take a walk 2 hours at Huahin Night Market, a popular old night market.
- Go back to hotel. Take your leisure time.
Day 3: Huahin to Phuket
- One day travel to Phuket by car, 10 hours

Day 4: Phuket Day trip

Tour around Phuket Island (Lunch, dinner)
Take you to Phuket Town by visiting.
Phra Phut Phra Thong worship (Unseen Thailand)
See the statue of Thao Thepkasit - Thao Srisunthorn. 2 heroine who salvaged Phuket
Then take a scenic view of Phuket Town at the park.
He rang
Take a look at the Old Town, which preserves the architectural style.
"Sino Portuguese"
Take a look at the first Thai mining monument at the bridge.
Rock (Laird), a place of air. Phuket
Buffet lunch

At Inca Restaurant Taste Food
More than 30 species
Then go to Chalong Temple. Worship Luang Por Cham -
Luang Phor, the people of Phuket.
Travel to Rawai beach and take a look at one of the beautiful scenic spots at Promthep Cape.
Arrive at the hotel of your choice.
Dinner at a restaurant

Day 5: Phi Phi Island Tour

Breakfast at hotel restaurant
07:10 Depart from the hotel and transfer to the Pier Pier. To travel to Phi Phi Island.
By Sea Angel
08:30 Depart from pier to Phi Phi Island.
The boat will pass through the island of flowers and into the Phi Phi Islands.
1 hour, 15 minutes
10:00 am The boat will take you to view the scenery around Maya Bay.
It is used to film the Hollywood movie "The Beach" Lohasama Bay,
Pilate Cave, Viking Cave or Naga Cave. Where is that
The nest is nested in a large number of boats.
Take a dip to enjoy the view.
Coral and beautiful fish at Maya Bay.
12.00 am. Boat ride to Phi Phi Don Island, which has beautiful beaches and is suitable for swimming.
Dinner at Phi Phi (4)
After meal ** Invite you to relax. Or go to the water.
14:20 Return to the big ship to return to Phuket. Follow directions to the pier. 16.00 hrs.
Send you accommodation.
18.30 hrs. Dinner at Sea Food Restaurant in Thai Village
Day 6: Phang Nga Bay - Khao Ping Cave - Tham Lom - Panyee Island (Breakfast, Lunch)

Breakfast at hotel restaurant
** Please check out the hotel **
08.00 am Departure to Phang Nga To take a cruise.
The beauty of Phang Nga Bay National Park, which is nicknamed as "Little Hobo"
Because of the beauty. Islands and mountain shapes. Like in China.
Visit Khao Mae Jo, Khao Chang, Tham Lom, beautiful stalagmite with stalactites.
He leaned against each other. A scene in the James Bond movie.
Dubbed James Bond Island
Then visit the Thai Muslim community built.
House on the water at Panyee Island.
Have lunch at Andaman Sea Food Restaurant amidst
Casual waterfront.
After dinner, you can see the village of Panyee Island built in the middle of the water.
Buy souvenirs such as shrimp paste, dried seafood.
Travel to Phuket Airport To return

Day 7: Departure day from Phuket to Bangkok
---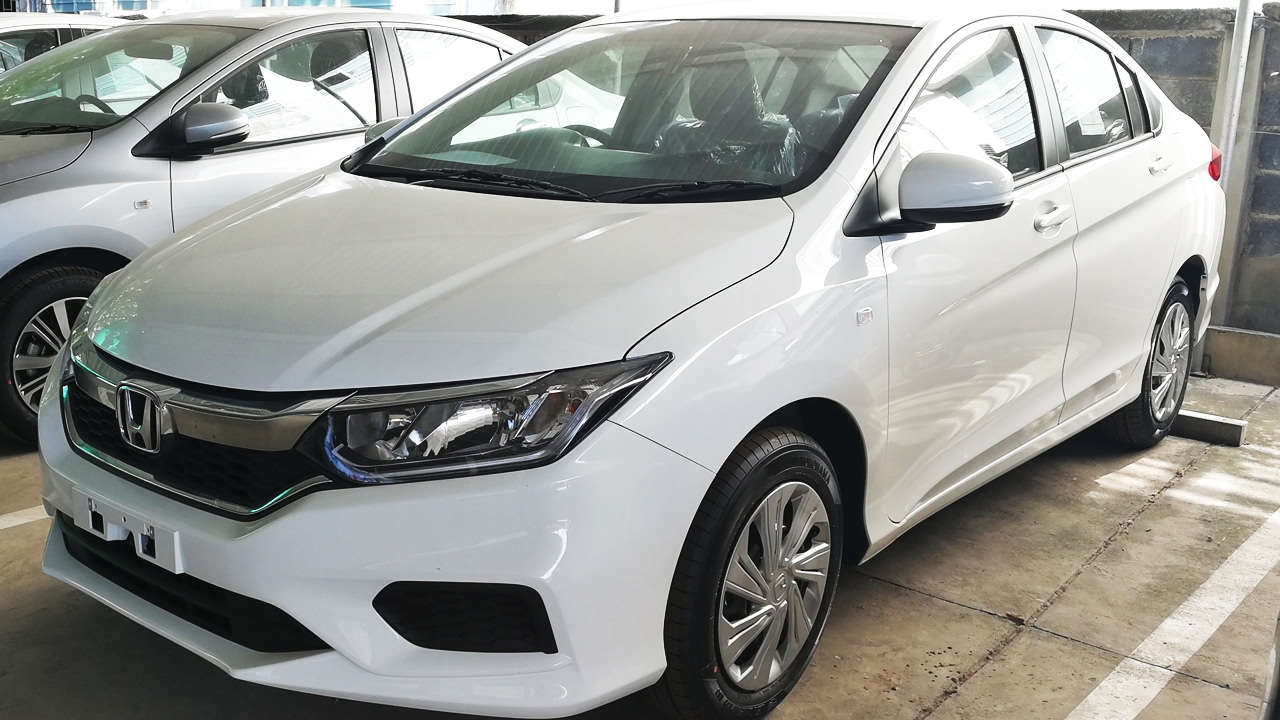 Photo above is a sedan car for 2-3 persons of the trip. If your group has only 1-3 persons, we will provide this car for you. The guide is a driver. However, if you feel it is small, you can request a van as pictured below.
---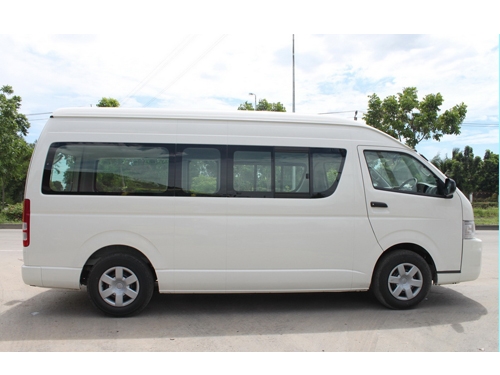 Photo above is also the vehicle for this trip, van car can contains 1-9 people of the group, max. 9 seats of passenger. We try to have only 6 people for the ease and more space in the car. It is quite new and very clean, not more than 7 years.
---
*The trip can begin any day. We are always free. Please contact to confirm with us 2-3 days to arrange before trip begin. Only 6 seats of passenger are allowed. It can be more up to 9 if you are the same group.
*Payment will be when first seeing customer the first day at hotel before trip journey begin.
*The hotel is based on 2,000 Bahts per day for twin room usually 4 star, including breakfast, usually already booked. The customer can discuss with us to select the other hotel before the date of the trip begin and pay the extra if the group prefer the luxury or 5 star hotel. On the other hand, If the group prefer low budget hotel, there will be return of money.
*Package includes only breakfast. For lunch and dinner are by your own.
*The entrance fee to Mrigadayaban summer palace is included.
*The tip for the guide and driver depends, not mandatory.
*The guide is a driver and your body guard.
*For free WIFI during the trip, the guide will prepare. Please ask him.
Please phone, LINK, email, or skype us to ask further information as detailed at this page: http://thaitravel.in.th/index.php/about-us.html