2D1N: 4,500 THB/day/yourgroup
Included: an English speaking guide who is your driver, a sedan car rental (Honda City/Toyota Vios), all fuel, all toll fee, all parking fees, driver's hotel, drop of and pick-up at your hotel.
Excluded: Food, hotel, entrance fees to the paid tourist attractions. For your hotel, pls book in advance at www.agoda.com. Recommended one is near Palio market/hotel with 10 km.
Max traveller 4 persons, but if there are more we need to change vehicle to be a van car.
The van with 10 seat price is 5,500 THB/day/yourgroup

Khao Yai National Park is the biggest Thailand preserved forest jungle located 200 kilometers or 3 hour drive to the north of Bangkok. Here you will have experience of true Thai animals and nature. The main activity is to ride the car in mountain, waterfall, and forest atmosphere and to visit several attractions.

DAY 1:
08:00 Departure from your hotel by a car.
10:00 Arrival and a short visit to Farm Chokchai to have some milk ice cream.
11:00 Arrival to Palio. This is the shopping center with shops, bar, coffee, spa, restaurant, etc. [20 THB parking fee]12:00 Lunch at Palio
13:00 The water fall
16:00 Primo Piazza. This is the shopping center with shops, bar, coffee, spa, restaurant, etc.[500 THB/person]17:00 A short visit to your hotel to take shower.
18:00 The night plaza market, shopping local goods and have dinner
20:00 Night zoo to watch some animals
21:00 Return back to your hotel.

DAY 2:
08:00 Pick up at your hotel
08:30 Visit the Bloom, a large flower garden
10:00 Visit Monte farm, the grape and wine garden
12:00 Visit Tosca Valley, a beautiful mountain enornous hotel in italian style
14:00 Visit some places such as the Bonanza Zoo [100 THB/person], Sheep Land [50 THB/person], Bonanza Advanture Park [100 THB/person], etc
15:00 Visit Tham Valley or Mirasierra Khao Yai
16:00 Departure to Bangkok
19:00 Arrival at your hotel in Bangkok


---
OTHER PLAN OPTION 1: 2 DAYs 1 Night

DAY 1:
08:00 Pick-up at your hotel in Bangkok
10:30 Palio village and Inn [20 THB parking fee]11:30 Chocolate factory
12:30 Lunch
14:00 Jim Thompson Farm [220 THB/person]. Enormous flower garden and farm, it is open only one month in December of the year.
19:00 Dinner at Midwinter Green restaurant
20:00 Night market
21:00 Arrive to your hotel in Khaoyai

DAY 2:
08:00 Pick-up at your hotel in Khaoyai
08:30 Primo Piazza - Country village, sheep farm, and flower garden [500 THB/person]10:00 The Bloom - Flower garden [100 THB/person]11:00 Toscana ville
12:00 Lunch at Ban Mai Chay Nam museum & restaurant
13:30 Saraburi Sunflower Field. This enormous large field Sunflower near Saraburi city is available to have flower only in December of the year.
15:00 Secret Art Garden [100 THB/person]. Here, you will find a beautiful small art garden with some secret meanings you have fun to find.
20:00 Arrive to your hotel in Bangkok

Options: A Cup of Love Café, Hobbit House, Santorini, Cowboy Hotel, Panther Greek Resort, My Ozone Khao Yai


---
OTHER PLAN OPTION 2: 3 DAYs 2 NIGHTs
DAY 1:
08:00 Pick-up at your hotel in Bangkok
10:30 Palio village and Inn – shopping village[20 THB parking fee] 11:30 Chocolate factory – coffee shop
12:30 Lunch
14:00 Jim Thompson Farm – Flower garden and farm
19:00 Dinner at Midwinter Green restaurant
20:00 Night market
21:00 Arrive to your hotel in Khaoyai

DAY 2:
08:00 Pick-up at your hotel in Khaoyai
09:00 Go deep into KhaoYai National Park
Visit some view points: mountains, lakes, and water-falls inside KhaoYai
12:00 Lunch inside KhaoYai
14:00 Visit Monte farm, the grape and wine garden
16:00 Visit some places such as the zoo, Sheep Land, Bonanza Adventure Park, etc for your choice.
18:00 Visit Tham Valley or Mirasierra Khao Yai
Options: If you want to see wild animals at night, you need to stay/sleep in a tent 100 THB/person inside KhaoYai. It is always available when you are there. After 6 pm, it is allowed to enter or go out from Khao Yai National Park.

DAY 3:
08:00 Pick-up at your hotel in Khaoyai
08:30 Primo Piazza – country village
10:00 The Bloom – Flower garden
11:00 Toscana ville – To take pictures at beautiful mountain view hotel
12:00 Lunch at Ban Mai Chay Nam museum & restaurant
13:30 Saraburi Sunflower Field
15:00 Secret Art Garden – Art museum [100 THB/person] 20:00 Arrive to your hotel in Bangkok
Options: A Cup of Love Café, Hobbit House, Santorini, Cowboy Hotel, Panther Greek Resort, My Ozone Khao Yai. Please discuss with the guide about the places you'd like to go.
---
OTHER PLAN OPTION 3: 5 DAYs 4 NIGHTs - to see everything in KhaoYai

DAY 1:
08:00 Pick-up at your hotel in Bangkok
10:30 Palio village and Inn – shopping village[20 THB parking fee] 11:30 Chocolate factory – coffee shop
12:30 Lunch
14:00 Jim Thompson Farm – Flower garden and farm[220 THB/person] 19:00 Dinner at Midwinter Green restaurant
20:00 Night market
21:00 Arrive to your hotel in Khaoyai

DAY 2:
08:00 Pick-up at your hotel in Khaoyai
09:00 Go deep into KhaoYai National Park[50 THB/person] Visit some view points: mountains, lakes, and water-falls inside KhaoYai
12:00 Lunch inside KhaoYai
14:00 Visit Monte farm, the grape and wine garden
16:00 Visit some places such as the Khaoyai Zoo, Sheep Land [50 THB/person], Bonanza Adventure Park, etc for your choice.
18:00 Visit Tham Valley or Mirasierra Khao Yai
Options: If you want to see wild animals at night [150 THB/person], you need to stay/sleep in a tent 100 THB/person inside KhaoYai. It is always available when you are there. After 6 pm, it is allowed to enter or go out from Khao Yai National Park.

DAY 3:
08:00 Pick-up at your hotel in Khaoyai
08:30 Primo Piazza – country village[500 THB/person] 10:00 The Bloom – Flower garden[100 THB/person] 11:00 Toscana ville – To take pictures at beautiful mountain view hotel
12:00 Lunch at Ban Mai Chay Nam museum & restaurant
13:30 A Cup of Love Café
15:00 Hobbit House
18:00 Arrive to your hotel in Khaoyai

DAY 4:
08:00 Pick-up at your hotel in Khaoyai to visit some places of your choice:
- My Ozone Khao Yai
- Hobbit's house
- Thames Valley
- Panther Creek Resort
- Dairy Home Farm Shop
- Ban Mai Chay Nam Museum & Restaurant
- Khaoyai Panorama Farm
- Khonyok Sheep Farm [50 THB/person]- Premium Outlet Khao-Yai
- Dasada Gallery
- The Verona at Tub Lan
- Pete Maze
- Midwinter Green
- Bonanza Khaoyai zoo [100 THB/person]
18:00 Arrive to your hotel in Bangkok

DAY 5:
07:00 Pick-up at your hotel in Khaoyai
10:00 Chokchai Farm – to enter inside to see the farm and milk production factory and cowboy show [300 THB/person] 12:00 Lunch at a restaurant
13:30 Saraburi Sunflower Field and Suwan Farm's Sweet Corn
15:00 Secret Art Garden – Art museum [100 THB/person] 20:00 Arrive to your hotel in Bangkok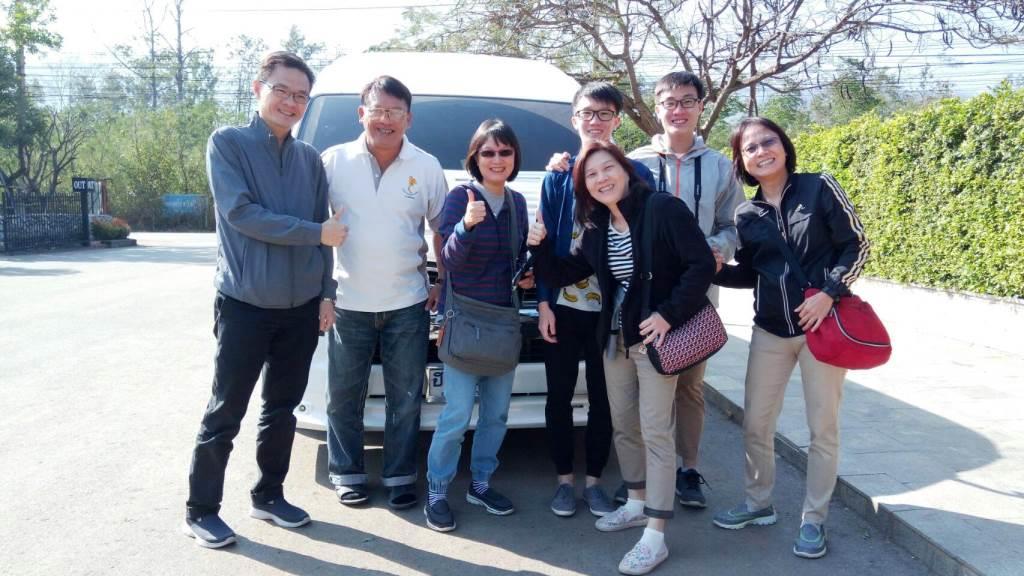 ---
Pls check and book your hotel in KhaoYai the most recommended that you will find the reasonable/cheap at www.agoda.com. It can be anywhere and checked by Google map that within range 20 km not far from central Palio market. Popular hotel list: https://www.booking.com/region/th/khao-yai.html

Top Attractions in Khaoyai: https://thailand.tripcanvas.co/khao-yai/best-things-to-do/

Chok Chai Farm, one of the largest dairy farm in Asia.
Mushroom Farm and souvenir shop where they able to see fresh mushroom on display.
Secret Art Garden, flower gardens or plantations of non-conventional. The interior is full of allusions to art.
Palio Khao Yai, is an Italian-themed shopping center in the heart of Thailand's wine country. Visitors can stroll through the alleys of the romance of this community. Lifestyle stores and discover a range of over 120 stores from restaurants, cafes, wine shops and souvenirs from the farm, decorative, hand-made souvenirs, and jewelry is unique.
PB Valley Khao Yai Winery, is Thailand's largest winery, and other vintners add to the Tuscan ambiance with vineyards that grow shiraz, tempranillo, chenin blanc and columbard grape varietals capable of producing quality wines in the subtropics. Have a chance to taste wine or grape juice. Go the way back to Bangkok visit

Additional information:
Midwinter Green restaurant - 88/88 moo10, Thanarat Rd. | Nong Nam Daeng Subdistrict, Pak Chong 30130, Thailand +66 44 365 299

Khao Yai national park – (Daily 06:00-18:00) (Adult B400, Child B200)

Primo Piazza Khao Yai - Mu Si, Pak Chong, Khao Yai National Park 30130, Thailand (09:00-18:00) (Entrance fee Adult B200, Child B100
+66 81 922 9000

The Chocolate Factory Khao Yai - Pak Chong, Pak Chong District, Nakhon Ratchasima 30130, Thailand (Daily 9:00-22:00)
+66 92 443 8881

Khao Yai Night market - 78 Bypass Road, Pak Chong, Thailand

Hotel Together Khao Yai - 141 Moo 12 Pakchong Nakhon Ratchasima 30130, Pak Chong, Khao Yai, Thailand, 30130 +66 44 081 465

Chet Sao Noi Waterfall National Park - Moo 9, Ban Kaeng Lu Rd., Muak Lek, Muak Lek, Saraburi 18180 Thailand (Daily 08:00-17:00) (Adult B100, Child B50) Tel:+66 3622 6431

PB Valley Khaoyai Winery - 102 Moo 5, Phaya Yen, Pak Chong 30320, Thailand (Daily 09:00-20:00) (Entrance Fee include 75min tour+wine:Adult Baht320, Child Baht250) Tel:+66 2 262 0030

Secret Art Garden - 99 Moo 9 | Klangdong Subdistrict, 30320, Thailand (Mon to Fri except Wed 9:00-17:00) (Fee:B100)
+66 44 993 939

Suwan Farm - 298, Moo 1, Mittraphap Road | Klang Dong Subdistrict, Pak Chong, Thailand (09:00-17:30) +66 80 158 8680

Chok Chai Farm – Farm Office K.M. 159-160 Moo 2 Friendship Highway, Pak Chong, Thailand (Entrance fee include 2hr guided tour B300) +66 61 558 5280

Ban Mai Chay Nam Restaurant - 21 Moo 11, Koh Kaew Village, Pak Chong Subdistrict, Pak Chong District., Nakhon Ratchasima 30130, Thailand +66 44 314 236

Khao Kho Weapon Mesuem - Highway 2196, Khao Kho 67270, Thailand (Entrance fee Adult B100, child B50)

Khao Kho Memorial- Khao Kho, Khao Kho District, Phetchabun 67270, Thailand (08:00-17:00)

Khao Kho Wind Farm - Petchdum Village, Khao Kho, Thailand (daily 05:00-18:00) (Entrance fee include shuttle B150)

Krua Khao Kho - 46 Moo 6, Phitsanulok - Lom Sak Road, Tambon Khaem Son, Amphoe Khao Kho, Phetchabun, 67270 +66 81 043 6388

The Sunnery Ville - 659 Moo 5, Lomkao,, Lom Kao, Lom Kao, Thailand, 67120 agoda +66 89 894 4190

Rom Klao-Pharadon Waterfall - Noen Phoem, Nakhon Thai District, Phitsanulok 65120, Thailand (As you approach the road to the School of Military Politics, the path to the waterfall is on the left and leads about one kilometre off the road to the waterfall)

ร้านอาหารดวงใจ (Restaurant)- Noen Phoem, Nakhon Thai District, Phitsanulok 65120, Thailand

ร้านกลิ่นข้าวไร่ (Restaurant)- Khaem Son, Khao Kho District, Phetchabun 67280, Thailand

Imperial Phukaew Hill Resort - 99 Moo 14, Phitsanulok-Lomsak Rd. Campson Khao Kho Chang Wat Phetchabun 67280, Thailand
+66 56 750 056

Wat Prathat Phasornkaew - 95, Moo 7 | Khaem Son, Khaem Son 67280, Thailand (08:00-16:30) +66 63 359 1554

Pino Latte Resort & Cafe - 232 Moo 5, Khaem Son 67280, Thailand (07:00-18:30) +66 87 099 4497

Kosit Hill Hotel - 39 Samukkeechai Road,Amphur Muang, Nai Mueang, Phetchabun, Thailand, 67000

Saraburi Sunflower Field - Chong Sarika, Phatthana Nikhom District, Lopburi 15220, Thailand (06:00-18:00) (Entrance fee B10) +66 3635 9021

The Bereley Hotel Pratunam - 559 Ratchathewi, Pratunam, Bangkok, Thailand, 10400